Dec 20, 2019
Bank of England

In July 2019 we had the pleasure of working with the Bank of England Museum, in the creation of a tactile station representing Britannia, the iconic figure of Great Britain. Let's look back on an excellent collaborative effort.

Since 1694 the venerable central bank of the United Kingdom has kept watch over the country's financial stability. In the heart of the City of London, at the eastern end of the magnificent building of The Old Lady of Threadneedle Street, lies the Bank of England Museum. As the museum of England's currency and financial history, it offers another reading of the country's history. As part of its new exhibition, 325 years, 352 objects, the Bank of England Museum recounts its fascinating story through 325 emblematic, original or surprising objects.

The Museum contacted us to produce a tactile panel representing its great figure, Britannia. Synonymous with Great Britain, she has appeared since the Roman era, characterised by the features of a goddess. From the time of its foundation, the Bank of England adopted this representation as the symbol on its seals, but it was in 1850 that it commissioned the Irish painter Daniel Maclise to design the version that would appear on all its materials up to 1956. And it was on the works of Maclise that we were given the opportunity to focus our attention.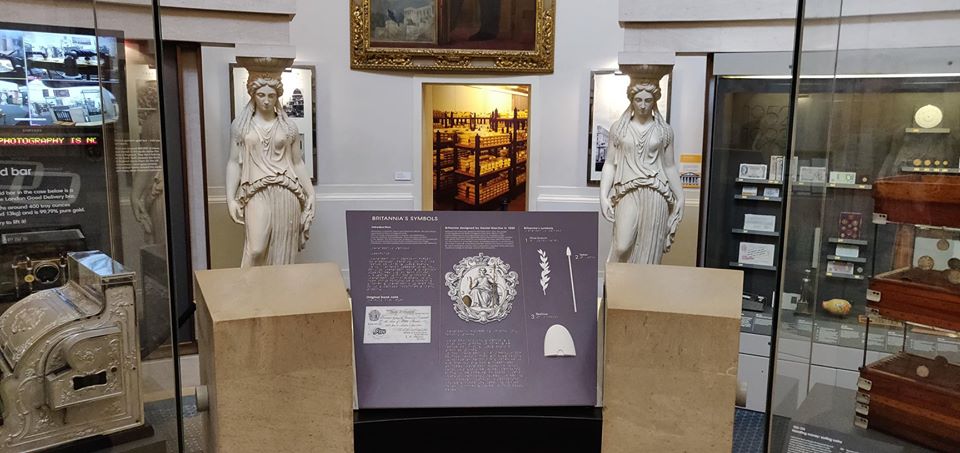 For this delightful project, we worked on a tactile panel divided into three sections which seek to explain the central figure and the symbols associated with it.
Portrayed here as an Anglo-Saxon princess, she holds an olive branch and a spear. Behind her is a hive. Together, these three elements represent peace, strength and prosperity. Starting from a 1956 banknote we chose to zoom in progressively, first looking at Britannia herself and then at her symbolic virtues. The branch, the spear and the hive were transcribed into separate elements that could be touched. The colours of the panel and the detailed elements were designed to blend into the exhibition's overall display.
We greatly valued this collaboration – a pleasure shared by the Museum team. "We were very pleased with the panel, which absolutely met our expectations." said Miranda Garrett, Collections and Exhibitions Manager. "Tactile Studios were very easy to work with. They were enthusiastic about the project, had great suggestions and delivered everything on time."
Many thanks!