Feb 12, 2020
Rediscover the story of Lyon – Musée Gadagne

At the heart of the Saint Jean quarter, the Historical Museum of Lyon offers a way to discover the evolution of the city, from ancient times to the present day. Its teams are beginning an ambitious overhaul of its permanent exhibition. Organised in four phases from 2019 to 2022, the museum will offer a new exhibition each year. The first, Portraits of Lyon, opened its doors on 4 December. Tactile Studio and Atelier WAM had the privilege of taking part in the new museography, for an enormous model produced in collaboration with Anamnesia.

Portraits of Lyon considers the urban history of Lyon in the context of three questions: «How do we define Lyon?», «How did Lyon become Lyon?» and «What of Lyon today?» It's part of a larger modernisation of the Museum taking place up to 2022, with a new exhibition each year. Interactivity and multimedia are at the heart of the renovation and offer visitors new fun and innovative experiences that invite them to explore further.

The highlight of the exhibition, the model that we have created allows visitors to place themselves in the contemporary city and to identify its main landmarks, both geographical and historical. With extreme care and precision, the topographical work was carried out by removing material from the initial mass. Instead of just a single piece, the model is presented in 30 different tiles, allowing the modification of one piece at a time, in line with the urban transformations. In this way, the model follows the changes of the city through time. The Part-Dieu and the metallic Fourviere Tower were taken from the model, so that they could be printed in 3D and then re-inserted into their positions.

It is animated by an extremely precise video mapping system conjured up by Anamnesia. The projections of digital content and videos allow the visitor to watch historical and geographical scenarios or to explore the city by choosing from 100 suggested points of interest. For each there is information about its evolution, with photos of yesterday and today.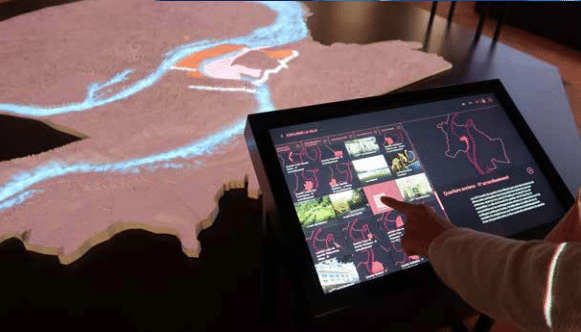 Collaborating on the modernisation of the museum, our teams had been able to focus on devising an intelligent and innovative mediation tool. We are very proud of this multidisciplinary partnership and to have been able to bring our expertise to a design that matches the diversity of its users.